Far-UV Spectroscopy: An Unexplored Frontier

A three year, NASA mission, successfully launched at 15:44:00 GMT on 24 June 1999 covering the far-UV region (905-1195Å) at high spectral resolution. 10,000 times more sensitive than Copernicus (1970s), allowing amongst other things accurate measurements of deuterium in a variety of environments.

The only UK Science Team involvement is at UCL for the hot star programme. A large sample of OB and WR stars have been selected in Galaxy and Magellanic Clouds, covering all spectral types and luminosity classes (see below). Observations will allow a direct determination of mass-loss versus metallicity through stellar wind resonance lines in the far-UV, necessary for an improved understanding of high redshift primordial galaxies.
FUSE Homepage (John Hopkins - Baltimore)
Observers guide to FUSE
Introduction to FUSE
Scientific benefits of far-UV spectroscopy
Details of principal FUSE science goals
Introduction to massive stars
FUSE observations of massive stars
Importance for high redshift galaxies
LMC OB targets (OPTICAL data)
SMC OB targets (OPTICAL data)
Wolf-Rayet stars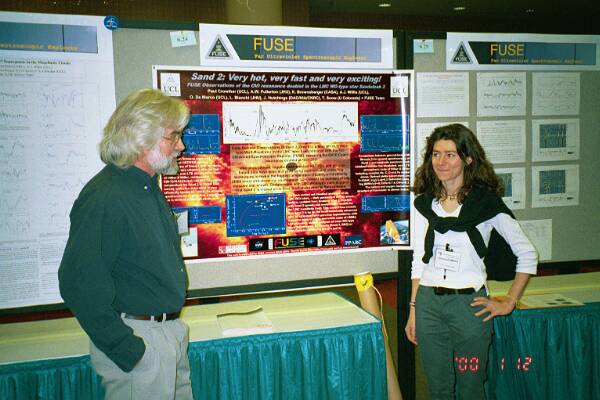 Poster on FUSE observations of Sand 2 a Wolf-Rayet star in the Large Magellanic Cloud presented at the Jan 2000 AAS meeting, plus FUSE Hot Star team colleagues, Derck Massa & Orsola De Marco.